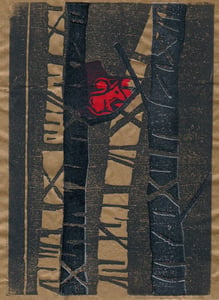 £

15.00 - On Sale
A gorgeous little red squirrel nestling in the branches of a silver birch.
This is a 2 block wood cut using chine-collé. Chine-collé is a collage method using tissue paper to create vivid effects under prints. The entire print is on gold tissue paper and the squirrel is highlighted using red tissue.
The gold tissue does have little creases which gives the print texture and a byzantine effect.
The tissue is attached to Japanese simili paper using spray adhesive and the print is created using waterbased ink. To prevent damage to the tissue paper the adhesive used is re-positional therefore great care should be taken when removing the print for framing. The tissue can be smoothed down carefully with a clean hand.
The printed area is 11x15cm. The tissue area is 16x12.5cm. The paper is approx 20x14cm but this will vary. .
Each print will be numbered and signed. In the pictures the framed print uses an orange tissue for the squirrel, let me know if you prefer this otherwise the red will be sent.
Each print is hand pulled and will be unique.